10 Florida Home Improvements that Add Value at Resale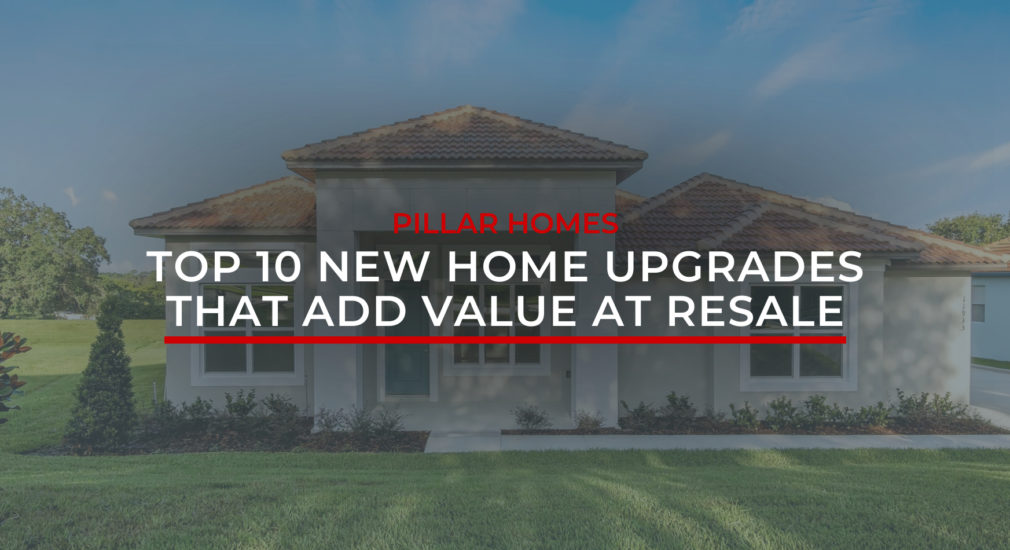 Are you wondering what home improvements add the most value to your home? 
Here's the secret: plan new construction upgrades that add value BEFORE you build your home. It seems simple, but trust us – it's far easier (and more affordable) to plan it now than to add it on later. 
In this article, we will show you how to increase resale value by improving the condition, size, quality home features, and usable space of your home. We will give you the top 10 home upgrades that add value and pay off at resale.
Ready to build the best new construction upgrades that add value? Let's work our way from the inside-out. 
1. Quality is Key
First things first, let's talk about home features. From up-to-date appliances to durable flooring, an investment in the right quality home features will add tremendous home resale value. 
Think about it: no one wants outdated kitchen appliances, wall paint that chips, or flooring that cracks easily. The more you invest in at the beginning, the better your new construction upgrades will pay off at the end – not to mention quality lasts longer as well! 
Consider the following home features before you construct your home: 
Modern kitchen and utility appliances

Durable flooring

Quality countertops

Mold-resistant wall paint

Contemporary, energy-efficient lighting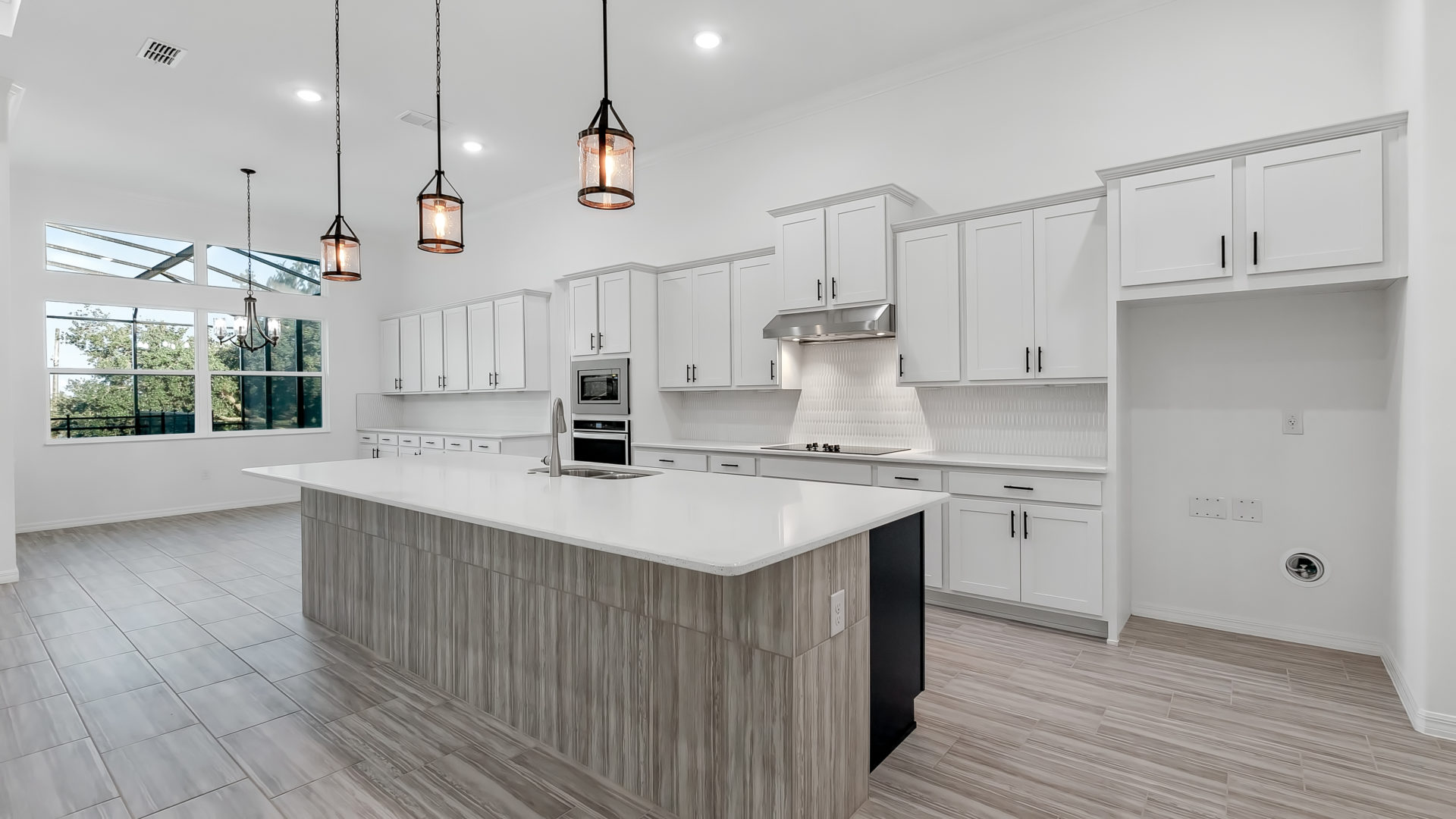 If you plan to live in your new home for several years, be sure to provide regular maintenance and cleaning to all of your quality home features. It is important to keep everything in good working condition so your home will stay fresh and young. 
2. Build up! Add a Second Story
Here's something we can all agree on: home size and usability of space are some of the most important aspects of resale value. 
Nowadays, a recent trend towards multigenerational living has caused many people to prefer larger homes with second stories. This allows several family members to live comfortably under one roof.
With that being said, if you really want to incorporate new construction upgrades that add value, give thought to a second story. You can even plan to design a custom home with an in-law suite if extended family members decide to move into your home in the future. 
3. Open-Concept Kitchen
We all know that the kitchen is the heart of a good home. Why? Because a practical, open-concept kitchen allows family members and guests to prepare delicious food, move around, and socialize with ease.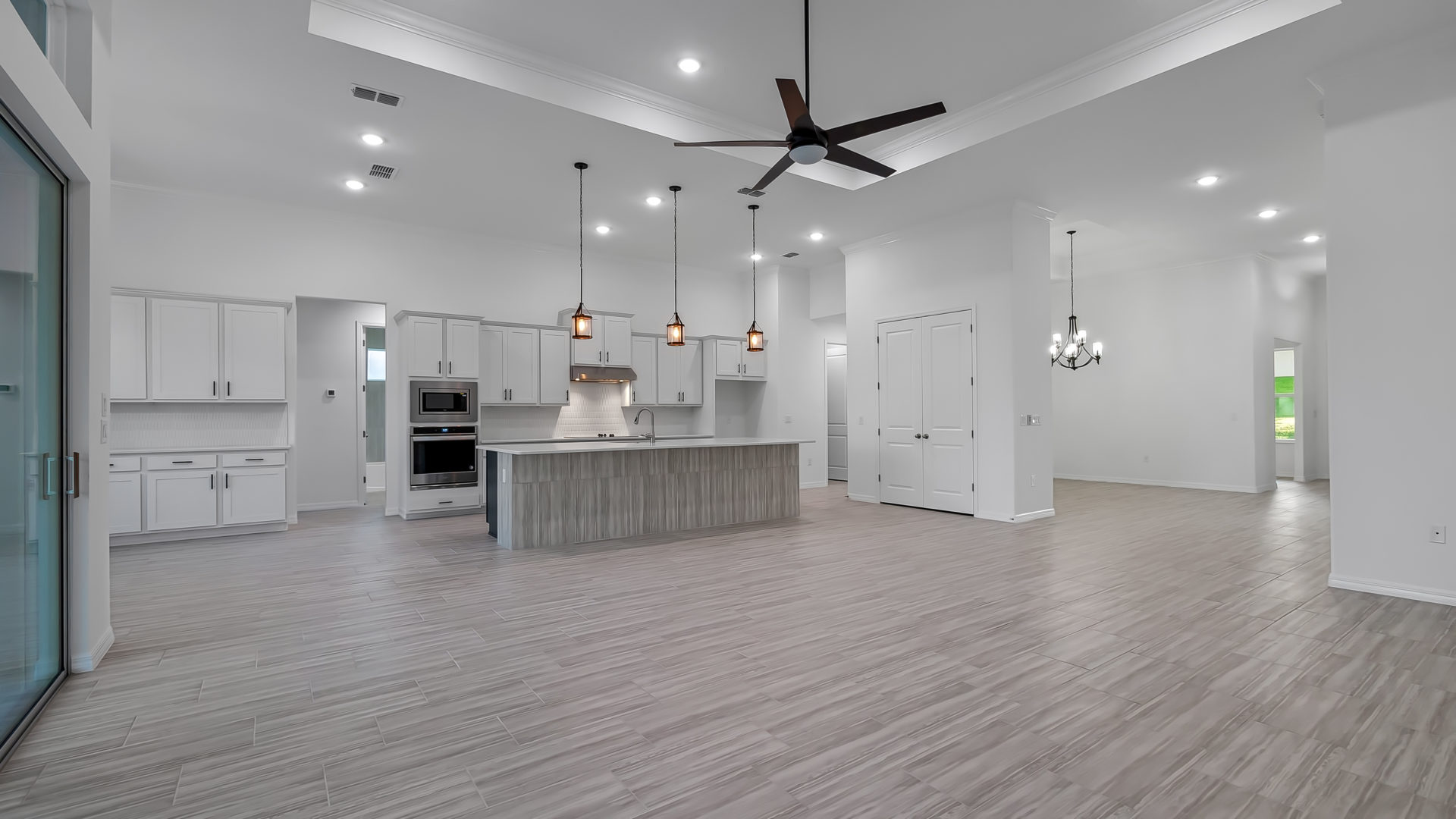 Just admit it: houses with closed-off, dark, and outdated kitchens don't feel homey. In fact, poor kitchen design with low-quality appliances can make a house seem cluttered and claustrophobic! This, in turn, drastically decreases the home resale value. 
Pro-tip: design a kitchen that is user-friendly, has easily accessible cabinets, drawers, electrical outlets, and offers plenty of countertop space. 
4. Natural Lighting
Picture this: a beautiful Florida sunrise filters through the windows in the morning and illuminates each room with a soft orange glow. The whole home seems to open up and a fresh, warm feeling brightens the mood. 
Let's face it – natural lighting is the best kind of lighting. That's why you should invest in quality windows that let in natural light. 
First, determine the best place for each window that optimizes natural sunlight. Next, choose strong, stylish, and weather-proof windows. Last but not least, install and enjoy! 
5. Add a Sunroom
Speaking of natural light, build a sunroom! Sunrooms, also referred to as solariums or Florida rooms, are easy home upgrades that allow you to enjoy an abundant amount of sunlight under the protection of a glass roof.
By adding a sunroom, you can improve your home resale value because it increases usable space. You can furnish your sunroom with comfortable patio furniture and even add a small herb garden with lush potted plants. 
Now that you know about the best interior improvements, let's talk about exterior home upgrades.
6. Screened-In Porch or Patio
If you plan to build a custom home in Florida, you know first-hand that the state is notorious for strong sun and biting bugs. Therefore, one of the best outdoor home features in Florida is a screened-in porch or patio.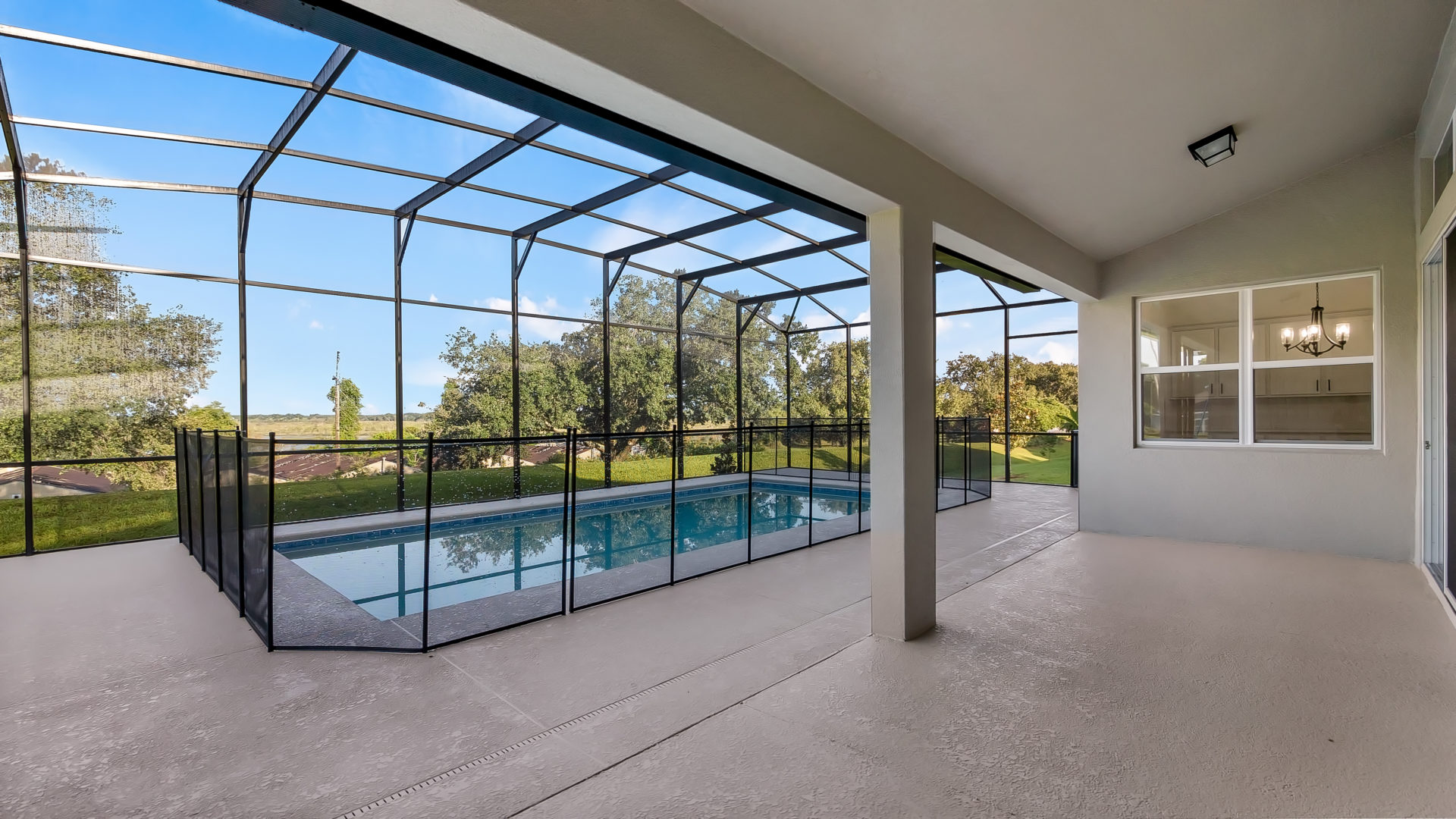 Not only do the screen enclosures reduce the influence of powerful UV rays, but they also block mosquitos and no-see-ums from entering your beloved outdoor space. Now, you can sunbathe and have a  Florida summer kitchen cookout WITHOUT getting a sunburn and bug bites! 
7. In-ground Pool
Along with your new screened-in patio, you can upgrade the resale value of your home by constructing an in-ground pool. Pools are extremely sought after home features, especially in Florida. 
Here's the catch: in-ground pools can be expensive to install and maintain. However, according to recent studies, a pool can increase home value by 5-8%. This is a particularly true trend in South and Central Florida communities. 
8. Don't Underestimate the Garage
Next up, let's talk about that garage. Since most garages are located at the front of the house, people will instantly look at the garage door when they drive past your property. That being said, no one wants to look at an eyesore! 
Are you catching our drift? News flash: buy a cohesive and attractive garage door! Steer away from garage door materials that dent, scratch, or rust easily, and instead, opt for a more sturdy and durable option.
While we're on the subject of garages, another way to add resale value is to convert the space into a multipurpose garage. Remember this: more usable space = more home resale value.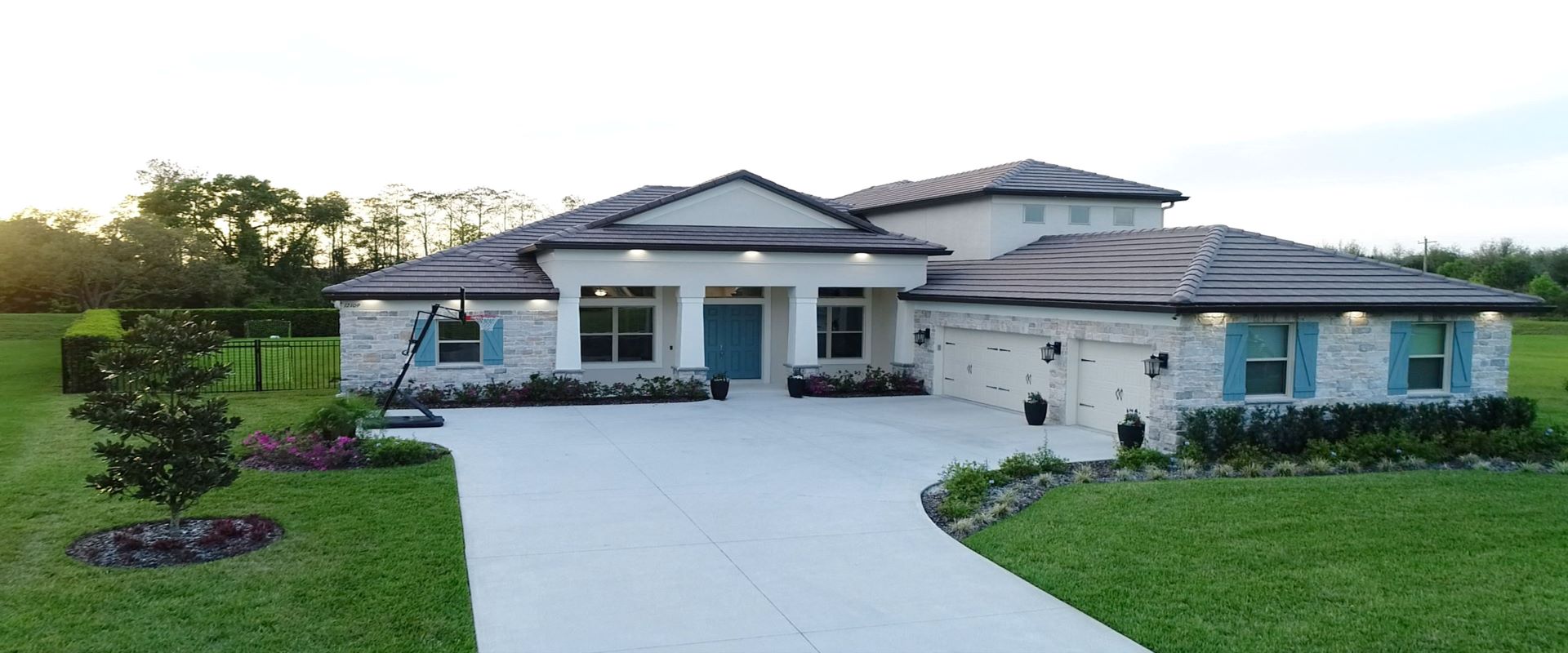 Now, it's time to move on to the roof! 
9. Install Solar Panels
Did you know? You can install solar panels on your roof and provide sustainable, cost-effective energy to the whole house! 
That's right – we included solar panels as one of the best new construction upgrades that add value to your home because you can save thousands of dollars every year on energy bills. 
But, that's not all. According to recent reports, solar energy is gaining popularity in Florida. That means you can increase resale value with these simple home features. They don't call it the Sunshine State for no reason! 
10. Upgrade Your Landscape
If you really want to know what home improvements add the most value to your home, then this is it: LANDSCAPE. In fact, some studies suggest that proper landscaping can increase your home resale value by over 25%. Talk about an amazing investment!
Your landscaping should be clean, natural, and well-cared for. Here are some of our top landscaping tips:
Maintain your lawn regularly

Add a deck or a walk-path 

Use mulch or pebbles to reduce weeds

Add a pop of color with tropical plants

Install a water feature, such as a fountain
Pro-tip: avoid planting spikey plants like cactuses in your front yard. Spikey plants send a warning message of "stay away!" and can actually decrease resale value. 
Quality Home Upgrades with Pillar Homes
In order to build the best new construction upgrades that add value to your home, you need to start with a good foundation. At Pillar Homes, we have over 25 years of construction and real estate experience in the Central Florida region. Let us build your dream home! 
Want to learn more home resale tips and tricks? Here are 6 easy ways to increase home value for appraisal.