Your Go-To Home Office Setup Checklist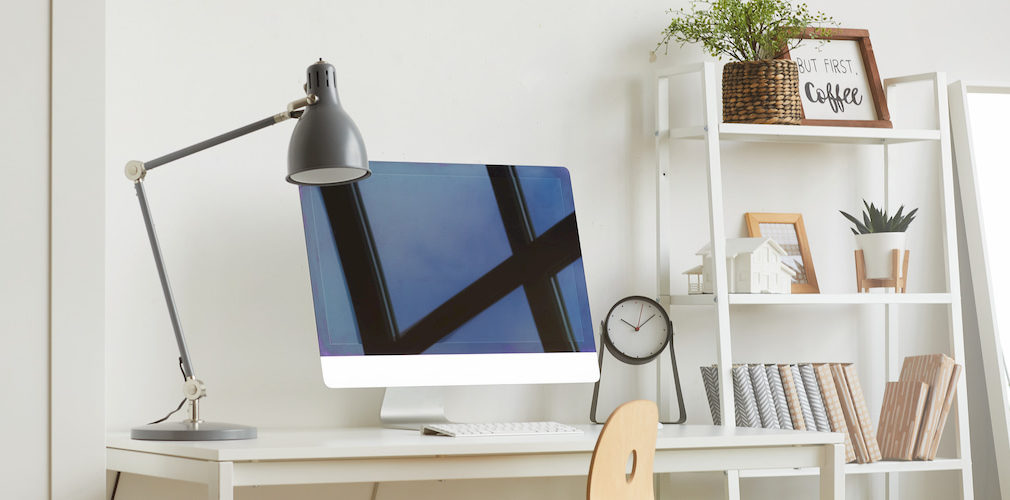 So, you want to know how to create the best home office setup for productivity? Whether you work from home full-time or you just need a space to focus on everyday tasks, your home office should be a welcoming place that inspires you to get your work done. 
For this very reason, we've set up the ultimate home office setup checklist. With these 5 handy tips and tricks, you can create the perfect workspace for anything you need to accomplish. From ancient Chinese feng shui tips for office organization to the most comfortable desk chair, we've got you covered. 
Ready to build the best home office setup ever? Let's dive right in! 
1. Find the Perfect Location
Location is everything. Just like you would want to find the perfect location for a home, you should also seek out the best room for your office. 
Ideally, you should look for a space that is big enough to let your ideas flow freely. But, at the same time, you don't want to be in an area that will easily distract you. 
Next, find a room with a view. Natural lighting, the opportunity to crack a window for fresh air, and a nice view of the outdoors are all positive features of the perfect home office location. 
Finally, if you are tech-savvy, be sure you choose a room that has plenty of electrical outlets. This will give you the freedom to plug in multiple computers, monitor screens, and other fixtures. 
Now that you have found the perfect location for your home office setup, it's time to talk about style. 
2. Choose a Suitable Style
Are you in love with sleek, modern design? Or do you prefer traditional, wooden furniture? No matter what style calls your name, make sure you pick one and stick with it. 
Stumped on how to find the perfect style? No worries! Here are some easy home office style tips to help you out. 
Determine the Use of Your Office Space
First and foremost, your workspace style should correspond with the main purpose of your home office setup.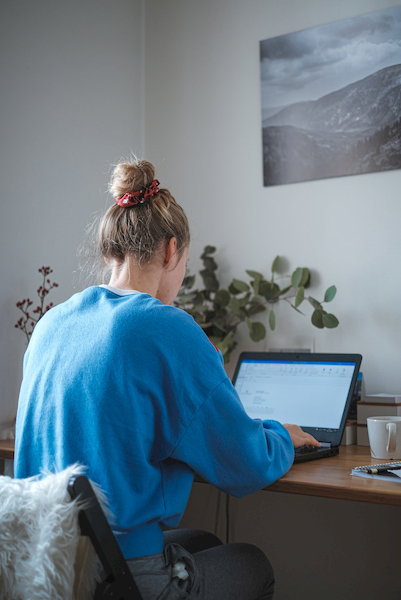 For instance, if you intend to use your home office primarily for business and work, then choose a style that inspires productivity and success. On the other hand, if your home office is going to be used as an art or graphic design studio, then choose a theme that encourages creativity. 
Pick the Perfect Paint Palette
Next, let's talk about wall paint. Your color palette should also match the intended use of your home office setup. 
For instance, if you are going to spend a lot of time making business deals in your home office, you can opt for a soft green or purple color palette. Why? Because these colors are traditionally associated with wealth and prosperity. 
However, if you want a room that inspires creativity and positive energy, a pale orange or soft yellow palette will do the trick. 
Pro-tip: Prefer white walls? No problem! A simple accent wall can add a nice splash of contrast; but, it won't overwhelm the room with color. 
3. Summon Your Inner Feng Shui
Next on our checklist, we're going to give you some feng shui tips for office layout. But first, what is feng shui?
In Chinese, "feng shui" means "wind and water." Through the proper arrangement of rooms, objects, and colors, you can achieve perfect balance and harmony. This, in turn, can help you feel relaxed and energized while you work. 
Did you know? The history of feng shui dates back to over 5000 years ago and has helped shape the way of life for many cultures. Traditionally, feng shui balances 5 key elements to create good energy. These elements include wood, fire, water, earth, and metal. 
Are you ready to summon your inner feng shui? Follow these quick feng shui tips for office organization:
Choose rounded edges over sharp angles. Your furniture should be as organic as possible. 

Declutter and organize your home office to create a mindful workspace. Optimize storage spaces and include easily accessible drawers. 

Hang up artwork that is meaningful and has inspirational messages or symbols. 

Encourage natural light and avoid fluorescent bulbs. 
Pro-tip: Position your desk away from the main entrance. Your back should be against a solid structure like a wall or bookshelf and you should face the door. This puts you in a "power position" and you will naturally feel more relaxed while you work. 
Now that you are able to create a positive balance in your home office setup, let's go buy some furniture! 
4. Buy a Comfortable Chair
So, it's finally time to buy home office furniture. Where should we start? The desk chair, of course!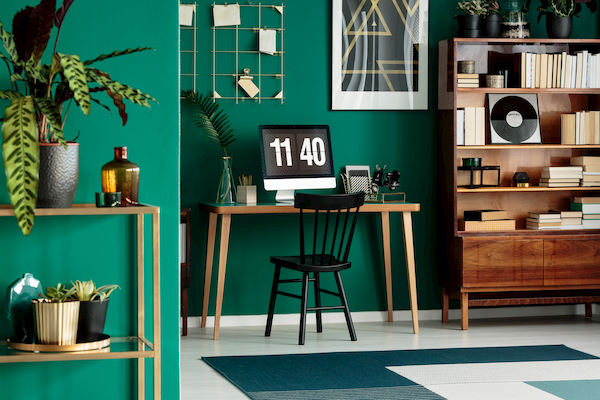 Before we get started, keep this in mind: ALWAYS choose function over form. Never buy a chair just because it looks nice or because it's in your favorite color. Instead, you should really search for a comfortable chair that will support your entire body while you work.
So, what should you look for? First, if you have back pain, take a look at these top-rated office chairs for back pain. These chairs will offer much-needed lumbar spine relief and back support, no matter how long you have to sit at your desk! 
Next, if you want a chair that has some "bounce" to it, look no further than the exercise ball office chair. These desk chairs give you the freedom to move your leg and core muscles while you work and promote "active sitting." 
5. Make Room for Plants
Are you ready to hear our final tip for the ultimate home office setup? Get your gardening gloves ready, because indoor plants are some of the most amazing office decor items you can find!
Stay with us on this one, we promise you will love this tip… 
Not only do potted plants create a more organic and welcoming workspace, but they also enhance productivity and personal well-being. 
But don't take our word for it! Just ask a botanist. It's scientifically proven that plants reduce stress and anxiety. And what's more? They also improve both our air quality and increase problem-solving skills. Amazing, right?
Work with less stress and take delight in a beautiful little plant on your desk or windowsill. What more could you ask for? 
Build Your Dream Home with Pillar Homes
Whether you want to create the ultimate home office setup or learn how to increase your home value for appraisal, we've got you covered! At Pillar Homes, we can help you navigate the ins and outs of finding your dream home.  
Are you building your home from scratch? Let us help you construct your dream home! With over 25 years of construction and real estate experience, we can build on your lot and help you design the ultimate home office setup.